Hello Everyone
A disaster is never complete without the images that accompany it. This page of my blog is for all of the images that accompany the Exxon Valdez oil spill.
-Alexis
This image is a amp of how far the oil spread within then number of days. Reference: http://www.wholetruth.net/history.htm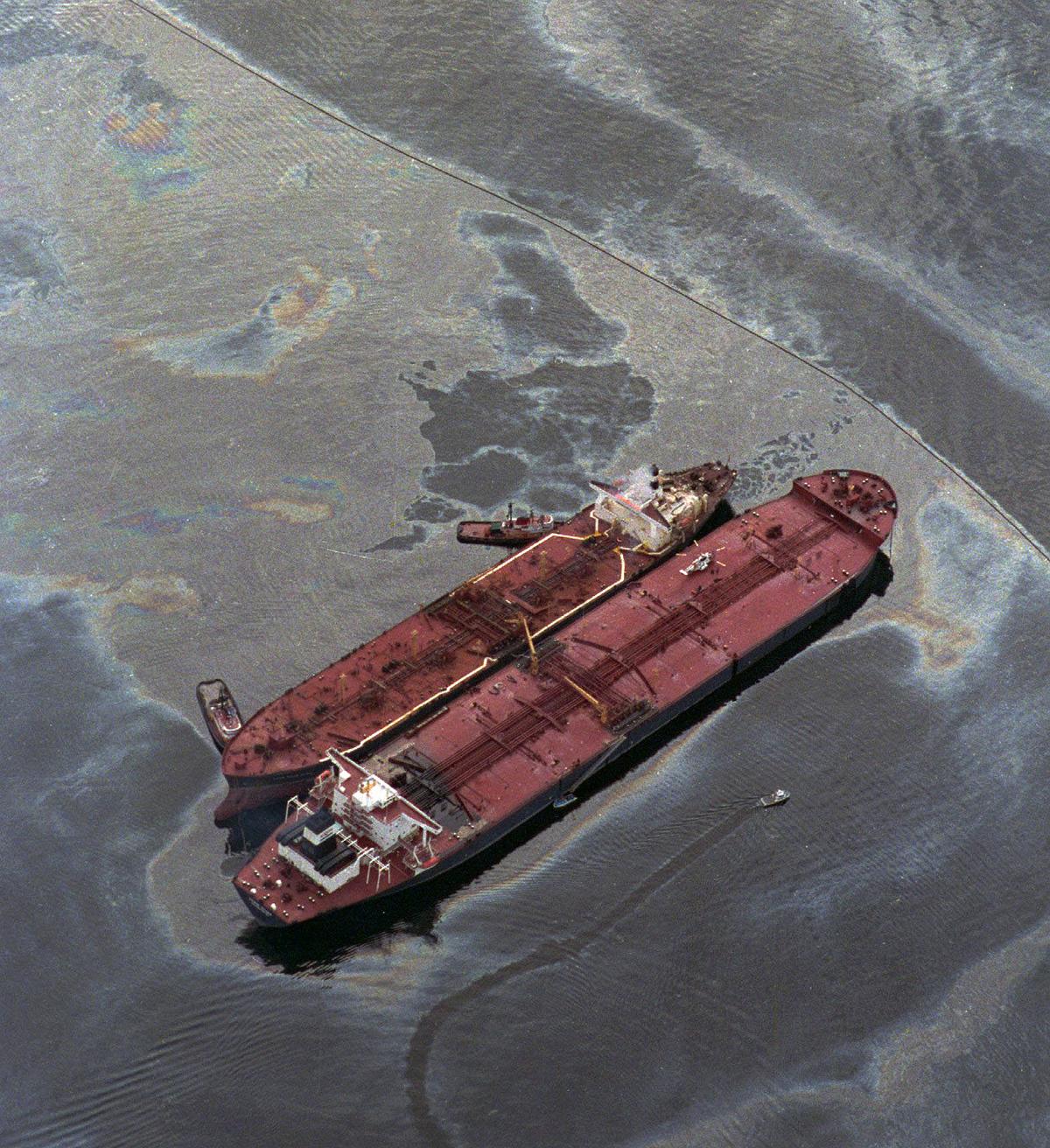 This is an image for the Exxon Valdez and the Exxon Baton Rouge. The Exxon Baton Rouge is taking on the oil that is remaining on bored of the Exxon Valdez, they are in the middle of the oil slick.
Reference: https://www.theatlantic.com/photo/2014/03/the-exxon-valdez-oil-spill-25-years-ago-today/100703/
This photo illustrates what the disaster had become in its early days, the need to clean the oil from the shoreline by hand simply because this was the only option.
Reference: http://www.cnn.com/2014/03/23/opinion/holleman-exxon-valdez-anniversary/
This image illustrates something that I was not able to fully devote in another blog post. The cleaning of the oil from the shorelines in this way does get ride of the oil in a fast way but it also creates other issues as well. The hot water that is being sprayed over the rocks is removing the oil but it is also killing all the bacterias that live in this area that help the ecosystem. This process was then done over and over again until Exxon declared it clean.
Reference: http://ngm.nationalgeographic.com/1990/01/alaska-oil-spill/hodgson-text
The shopping lanes that Exxon Valdez was meant to stay in but the dotted line is the path that Exxon Valdez was on.
Reference:https://valdezoilspill.wordpress.com/conclusion/
This image illustrates where the pipeline is run through Alaska and where it terminates at the port of Valdez.
Reference:
This image illustrates the recovery time for the animals that are present within the sound from when the poll happened until 2014. We know that in 2017 all of these species have not fully recovered to there before spill status.
Reference: http://oceanservice.noaa.gov/podcast/mar14/mw122-exxonvaldez.html
This video has information about what the dispersants that were used in Exxon Valdez and how it relates to the BP oil spill.
Reference: https://www.youtube.com/watch?v=qpoL4cfO_sM
This video is a commemoration of the Spill 20 years later.
Reference:https://www.youtube.com/watch?v=uieBWL9mOdk
This video speaks to the what has happened to the small finishing communities. This video is a small look into what happened and a general look at the measures that are happening now.
Reference:https://www.youtube.com/watch?v=qo9jl_udQVY